Scientific name
Croton megalocarpus
Order / Family
Euphorbiaceae
Local Names
Boran (Nyapo); Duruma (Nyaeppo); Embu (Mukinduri); Gabra (Nyaap'po); Giriama (Muyama): Kamba (Muthulu); Kikuyu (Mukinduri); Luhya (Musine, Omsala kwa tsibanda); Meru (Mukinduri); Taita (Mkigara); Swahili (msenefu); Samburu (marakuet); Tugen (Ortuet):
Introduction
General Distribution:
Found in Tanzania, Rwanda, Burundi, Uganda, Kenya, Congo (DRC), Malawi, Zambia and Mozambique. In Kenya it is wide spread, from the south to the western and northern parts of the country.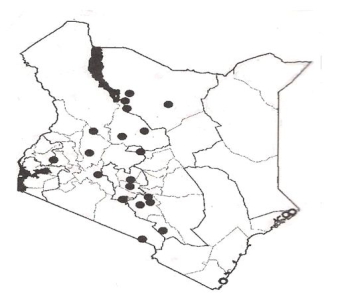 Distribution of

Croton

megalocarpus

in Kenya
©

Maundu

P. and Bo

Tengnas

. (2005). Useful trees and shrubs for Kenya, World

Agroforestry

Centre.
General Information about the Tree:
Seed has high oil (30%) and protein content (50%). Oil extract can be a strong purgative. It is not recommended for
intercropping
due to competition and shade. Cultural beliefs prevent it from being planted close to homes.
Biophysical Limits:
Found in
Ecozones
III - V but very common in zone III, 1000 - 2000 m above sea level and is well adapted to variable highland soils.
Propagation and Tree Management
It may be propagated by direct sowing at site (recommended), seedlings (sow seed directly in pots) or
wilding
. It's fast growing in high potential areas, slow elsewhere; lopping, pollarding and
coppicing
may be employed. It takes 10 to 25 years to mature. It may occur in mixed farming systems, woodlots, boundaries and,
agroforestry
systems.
Products:
Fodder: The seed is incorporated in poultry feeds, as its protein content is high (50%).
Fuel: Well-dried nuts are reportedly used in some areas together with charcoal in cooking stoves. The tree is also utilized for firewood.
Apiculture: This species produces a

dark-ambered

honey with strong

flavour

.
Timber: Wood is of medium weight, hard, termite-resistant, strong; it is used for timber and building poles.
Medicine: Seed contains up to 32% oils, which have been used

favourably

as medicine. Bark decoction is used as a remedy for worms and whooping cough.
NB: It is said to have almost the same potential as
Jatropha
curcas
in production of fuel.
Services:
Shade/shelter; It has a flat crown and horizontal layers of branches which make it useful in providing light shade and serving as a windbreak.
Soil improver: the leaves have high levels of nitrogen and phosphorus which they can add into the soil when used. Leaves also serve as a source of mulch, eg, in coffee plantations.
Ornamental: It has conspicuous flowers which make it suitable as an ornamental.
Boundary or barrier or support: The species is not browsed by livestock and therefore a suitable species for live hedge.
Pests and Diseases
Croton is susceptible to attacks by Ambrosia beetles in areas of altitude between 1,300 to 2,100 m in Kenya. Other insect pests that may attack it include Scolytidae.
Information Source Links
Maundu P. and Bo

Tengnas

. (2005). Useful trees and shrubs for Kenya, World

Agroforestry

Centre