Scientific name
Spathodea campanulata
Order / Family
Bignoniaceae
Local Names
(Nandi flame, African tulip tree); Kipsigis (Sebetaiyet); Luhya (Mutsulia); bukusu (Kumuchirisia); Luo (Nyawend agwata); nandi (Sebetaiyet); Pokot (Repko); Teso (Ekakale).
Introduction
General Distribution:
It is native to Angola, Ethiopia, Ghana, Kenya, Sudan, Tanzania, Uganda and Zambia. In Kenya is concentrated in high potential areas in Western and Central parts of the country.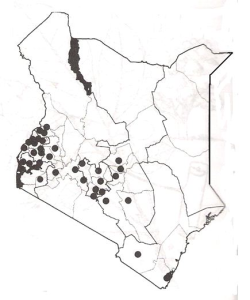 Distribution of Spathodea campanulata in Kenya
© Maundu P. and Bo Tengnas. (2005). Useful trees and shrubs for Kenya, World Agroforestry Centre.
General Information about the Tree:
This tree species grows naturally in Africa in secondary forests in the high forest zone and in deciduous, transition, and savannah forests. It colonizes even heavily eroded sites, though form and growth rate suffer considerably on difficult sites.


Biophysical Limits:
It thrives in the altitude: 0 - 2 000 m, mean annual temperature: 27 - 300C, mean annual rainfall: 1 300-2 000 mm and it develops best in fertile, deep, well-drained loams. Soil texture may range from loamy sands to clays, pH is between 4.5-8, and soil drainage may vary from poor to excessive. Is spread in agro-ecological zones II - III.
Propagation and Tree Management
S. campanulata may be propagated by use of seedlings or wildings and it will coppice up to at least pole size.

Products:
Food: The seeds are edible in many parts of Africa.
Timber: It's the soft, light brownish-white wood is used for carving and making
Poison: The hard central portion of the fruit is used to kill animals.
Medicine: The bark has laxative and antiseptic properties, and the seeds, flowers and roots are used as medicine. The bark is chewed and sprayed

Services:
This tree is planted extensively as an ornamental tree throughout the tropics and is much appreciated for its very showy reddish-orange or crimson (rarely yellow), campanulate flowers. Other services include
Shade or shelter: Recommended as a shade tree for parks and yards; it has been
Reclamation: S. campanulata helps rehabilitate disturbed lands through its quick invasion and rapid growth. It is not browsed by domestic animals and although a popular decorative tree for avenues it has shallow roots and a tendency for branches to break off in a storm.
Boundary or barrier or support: The species, either planted or growing naturally, is frequently used for living fence posts.
Pests and Diseases
It has been observed in Uganda, 2 lepidopteran species, 2 termite species, and 1 bark beetle attack this tree. In Puerto Rico 9 insect species in the orders Homoptera, Hymenoptera, Lepidoptera, and Thysanoptera have been reported as feeding on various parts of S. campanulata. The species is quite susceptible to butt and heart rot; wood of the tree rots quickly when in contact with the ground.
Information Source Links
Beentje HJ. 1994. Kenya trees, shrubs and lianas. National Museums of Keny
Bekele-Tesemma A, Birnie A, Tengnas B. 1993. Useful trees and shrubs for Ethiopia. Regional Soil Conservation Unit (RSCU), Swedish International Development Authority (SIDA).
Birnie A. 1997. What tree is that? A beginner's guide to 40 trees in Kenya. Jacaranda.