Scientific Name
Amaranthus spp. (A.dubius, A tricolor, A.caudatus, A.cruentus) (A.dubius, A tricolor, A.caudatus, A.cruentus, A. amara, A. bitum, A.graecizans, A. hybridus, A. sparaganiocephalus, A spinosus)
Order / Family
Caryophyllales: Amaranthaceae
Local Names
Mchicha (Swahili), Terere (Kikuyu), Lidodo (Luhya), Ododo (Luo), Kelichot (Kipsigis), W'oa (Kamba), Emboga (Kisii), Kichanya (Taita), Doodo (Luganda)
Pests & Diseases:
Aphids (Aphis spp.)

Aphids are a major pest, causing leaves to curl and become unattractive to customers.

Aphids feed by sucking plant sap. Small aphid populations may be relatively harmless, but heavily infested plants usually have wrinkled leaves, stunted growth and deformed seeds. Plants, in particular young plants, may dry out and die under heavy aphid attack. Heavy attack on older plants may cause crop loss by decreasing flower and seed production. Damage may also reduce seed viability.

What to do:

Monitor regularly the crop.
Whenever necessary spray only affected plants (spot spraying).
Use biopesticides that are not harmful to natural enemies (for instance neem, ashes, soapy water). In Kenya, foliar sprays with neem products such as Neemroc ® (1-3%) and Neemros ® water extract (50g/l) controlled the black bean aphid on vegetables (Maundu, 1997). For more information on Natural pest control click here
Conserve natural enemies. They are important in natural control of aphids. For more information on Natural enemies click here
,
Bugs

Bugs can cause severe damage to flowering head and seeds, and may be particularly damaging to grain amaranth when present in large numbers during the critical seed fill stage. They are usually of minor importance in vegetable amaranth, and no control measures are needed.

What to do:

Bugs are usually of minor importance in vegetable amaranth, and no control measures are needed.
,
Choanephora rot

Choanephora blight (also called Choanephora rot) is caused by fungus Choanephora cucurbitarium. It causes wet rot of stems and leaves. Affected plant parts have hairy appearance (silk-like threads) consisting of fungal spores. Infection is predisposed by injuries. During rainy season it can cause heavy defoliation. The disease is spread by air currents and infected seeds. Warm, moist conditions favour disease development.

What to do:

Use resistant varieties where available.
Plant certified disease-free seeds.
Avoid dense planting to allow sufficient aeration.
Practise good field sanitation.
Spray copper when the disease is observed, see more under Biopesticides: Copper
,
Cutworms

Cutworms attack young seedlings. First instars are 7-12mm, fully grown caterpillars are 3.5-5 cm long. The caterpillar emerges from the soil at night, encircles the plant with its body and cut through the stem of young plants just above ground level. They may also damage the plants underground. Cutworm damage causes plants to wilt and die. Cutworm damage is usually minor and does not normally warrant control. However, in severe outbreaks a young crop may be destroyed.

What to do:

Monitor damage by counting damaged and freshly cut young plants. Monitor cutworm at dawn.
Remove and destroy cutworms.
Prepare field and remove weeds well ahead (10-14 days) of planting the crop in the field. Ploughing exposes caterpillars to predators and to desiccation by the sun. If the field is planted soon after land preparation, some cutworms may be alive and attack the new crop.
,
Damping-off diseases (Pythium spp. Rhizoctonia solani )

The disease is caused by Pythium aphanidermatum, Rhizoctonia solani and Aphanomyces sp. Seeds may rot in the soil before emergence (pre-emergence damping-off) or seedlings may exhibit stem canker above the soil line and/or root necrosis. Affected seedlings eventually wilt (post-emergence damping-off). The disease is favoured by high soil water content and low soil temperatures. Also dense planting without sufficient aeration enhances disease development.

What to do:

Use disease-free seeds.
Avoid over watering.
Avoid dense planting.
,
Leafminers (Liriomyza spp.)

Leafminers (Liriomyza spp.) are small flies, 1.3-1.6 mm in length. The maggot makes long, slender, white mines (tunnels) in leaves. Severely mined leaves may turn yellow and drop. Severely attacked seedlings are stunted and may eventually die. Control measures are necessary when attack is severe, especially on young plants.

What to do:

Conserve natural enemies. They are very important in natural control of leafminers. For more information on Natural enemies click here
Hand pick and destroy mined leaves.
Whenever necessary spray the crop with neem products. Neem water extracts and neem oil give good control of leafminers. For more information on Neem click here
,
What to do:

Avoid planting next to infested fields.
Avoid frequent use of broad-spectrum pesticides, in particular pyrethroids; this may lead to spider mite outbreaks.
Use overhead irrigation or wash plants with a strong jet of water to knock off mites and destroy their webs. Be sure to spray the underneath of the leaves. However, this should be done early in the day to allow the foliage to dry. Wetness of the foliage for an extended period is conducive to development of fungal diseases
,
Weeds

Weeds compete for light, water, and nutrients, thereby resulting in reduced yield. Thorough land preparation is the first key to effective weed control. Amaranth is small-seeded and slow to germinate - therefore, weed control is essential early in the season. A seedbed free of weed seeds allows amaranth seedlings to get a head start on the weeds and establish a canopy that can shade out emerging weed seedlings.

What to do:

Mulching is recommended to reduce weed competition, soil compaction and erosion; mulching also conserves soil moisture. Be sure the organic mulching materials are free of weed seeds. Mulching is easier to apply if the amaranth crop is transplanted, but can also be used for row-seeded crops after the seedlings reach a height of 10 to 15 cm.
,
Weevils

Several species of weevils feed on amaranth. Adult weevils feed on leaves, but the larvae (grubs) are more damaging because they bore into roots and stems, causing rotting and potentially lodging and predisposition to diseases. Stem-boring weevils such as the pigweed weevil (Hypolixus haerens) are the most damaging causing plants to wither and lodge. The adult weevil lays its eggs in branch crotches, and the larvae bore through stems to the root collar hollowing the stems. Feeding by larvae results in stems that are more susceptible to wind breakage, thus increasing crop losses. The larvae pupate in the stem.

In South Africa, attack by this weevil has been associated with extensive tissue discolouration, decay and cankers in branches, stems, and root collars of Amaranthus hybridus. This weevil has been found to be associated with fungi (mainly Fusarium spp) that cause tissue decay and a canker disease (Blodgett et al., 2004).

What to do:

Uproot and destroy attacked plants to reduce number of weevils and prevent damage to healthy plants.
Other pests: Alternaria leaf spot, Flea beetles, Leafrollers
Geographical Distribution in Africa
Map showing the Geographical Distribution of Amaranth Crop in Africa. Source www.cabi.org (2014). Updated 28 November 2018.
Other Local names
Read more

Botswana: Thepe (A. thunbergii), Mbowa (Shona) (A. thunbergii) (Chweya & Eyzaguirre, 1999)

Burkina Faso: Bamambourou (Dagara) (Amaranthus cruentus) (Maundu P. et al., 2015)

Cameroon: Kumkum (Bafia), Ndjap mekat (Bamileke), Feufe (West Province), Teue (Bamoun), Po'oga (Bassa), Folong (Bulu, Ewondo), Biwolè (Littoral Region), Agnaka/ Hakondjam (Fulfudé), Gagnorwa (Haoussa), Kumkuma (Eton) (Chagomoka et al., 2014); Green, Epore, Mewahge, Efieh, Keliangiie, Hayeka Bewole, Pouko (IPGRI, 2006).

Democratic Republic of the Congo: Dunda (Lingala) (IPGRI, 2006); Kpedekpede (Mbuti Pygmies, Ituri forest) (A tricolor) (Hideaki, 2003)

Ethiopia: Tsunata (Berta), (A. hybridus); Horoqota (Darashe) (A. graecizans); Amugnaeder (Anuak) (A. spinosus) (Lulekal et al., 2011); Yekchanchila (Gumuz) (Amaranthus cruentus) (Maundu P. et al., 2015)

Ghana: Alefi (Krobo), Srahansoe, Nantwibin, Nantwinkasee, (Twi/Akan), Awsaumei, Dan, Anago mio (Ga), Asibe (Asantewa), Aleefu (Krobo/Ga Adangbe), Matonui, Moxeti, Senutsoe, Fotete, Awusagbe (Ewe) (A. cruentus) (Nyadanu & Lowor, 2015)

Kenya: Edodo, Emboka, Litoto (Bukusu), Chiswenya, (Chonyi, Digo, Kambe); Kiswenya, Kiswenya-Kithithe (small form) (Giriama); Raprapa, I-Okuronit, I-Okuroniti (Ilchamus); W'oa, Telele (Kitui), Terere (Mwingi) (Kamba); Chepkerte, Chepkerta (Keiyo); Terere (Kikuyu); Kelichot (Kipsigis), Emboga (Kisii), Tsimboga, Edodo, Litoto (Plant), Omboga (Luhya), Tsimboga (Maragoli)), Ododo, Omboga (Luo), Nanyi, Nyanyi (Maasai), Kipkanding'wa (Marakwet), Terere (Mbeere), Terere, Rwoga (Meru), Nyoni, Ntererei, Mir (Samburu), Kiswenya (Sanya), Dargo Sagar, Daargo-Warabe (Somali), Mchicha (Swahili), Lidodo, Litoto (Tachoni, Marachi), Kichanya, Kizenya (Taita), Eboga (Teso), Terere (Tharaka) (Amaranthus Spp.); Mborochet, Mborochik (Kipsigis), Libokoyi (Luhya) (A. Blitum); Cheptokdogan (Kipsigis), Tsimboka Tsia Navanyolo (Luhya (Kisa)), Enyaru-Olmuaate, Enyaru-Nanyokie (Maasai), Chepkerte, Chepkarta (Marakwet) (A. Cruentus, A. Hybridus); Rwoga (Embu), Logatsi (Giriama), W'oa (Kamba), Terere Wa Gikuyu (Kikuyu), Ombok-Alikra (Luo), Kipkanding'wa, Kipiriak (Plural) (Marakwet), Muruoga (Mbeere), Rwoga Ra Kicuka (Meru), Ptanya (Pokot), Dargu (Somali), Rwoga (Tharaka), Ekiliton, Lokiliton, Louyeing'orok, Adye (Turkana) (A. Graecizans); Kiswenya-Cha-Miya (Giriama), Lkamasei (Ilchamus), Terere-Wa-Ng'ombe, Terere Wa Kigombe (Kikuyu), Mborochet (Kipsigis), Sikukuu, Chepkuratian (Pokot), Nairepirepi (Samburu), Kiswenya-Korati (Sanya), Lookwa, Epespes (Turkana) (A. Spinosus). (Maundu et al., 1999)

Madagascar: Anampatsy (A spinosus) (Nový, J. 1997); Agnambario, Agnampatsy (Antakarana), Anamena, Anampatsa, Kimoelahy, Sabotraboay (Malgache), Amarante Épineuse, Épinard Malabar, Épinard Piquant (French) (A spinosus) ; Antakaranaagnambario (Antakarana), Anantarika (Malgache), Amarante Fournaise, Amarante Tête D'éléphant, Amarante Tricolore, Épinard Chinois (French) (A tricolor) (Nicolas & Allorge-Boiteau, 2012)

Malawi: Bonongwe (Chewa) (A. viridis, A. dubius, A. hybridus) (Morris, B., 1996)

Mozambique: Tzeke (Maputo) (A. spinosus) (Slow food, 2015)

Nigeria: Tete abalaye (Yoruba) (A. viridis); Dagunro (Yoruba) (A. spinosus) (Faluyi., 2020); Tete (Yoruba), Opotoko (Igbo) (A spinosus) (Aiyeloja and Bello, 2006); Inine (Ibo), Tete Elegun (Yoruba) (A spinosus) (Egharevba & Ikhatua, 2008)

Senegal: Mboro-mboro, Mbuumi ker (Wolof, Pulaar), Daxdiir (Sereer) (A. hybridus ssp. incurvatus, A. viridis); Daxdiir gor (Sereer) (A. spinosus); Mbuum bu gor (Wolof) (Chweya & Eyzaguirre, 1999

South Africa: Meerjarige misbredie (A. deflexus); Hanekam (Afrikaans), Thepe (Sotho), Imbuya (Zulu), Vowa (Venda) (A. hybridus, A. hypochondriacus) (DAFF., 2010); Mukango (A. cruentus) (Constant & Tshisikhawe, 2018); Misbredie, Hanekam, Varkbossie (Afrikaans), Unomdlomboyi, Imbuya, Umifino umtyuthu (Xhosa), Imbuya, Isheke, Indwabaza (Zulu), Thepe, Theepe (Pedi, Sotho, Tswana), Umbuya, Isheke (Swati), Vowa, Theebe (Venda), Theyke, Cheke (Tsonga), Mohwa (Shona), Imbuya, Tyutu (Pondo) (Van Rensburg et al., 2009); Misbredie (Afrikaans), (A. hybridus); Perennial Amaranth (English) (A. deflexus); Cape amaranth (English) (A. hybridus); Thorny Amaranth (English) (A. spinosus); Red amaranth (English) (A. thunbergii). (Dorado et al., 1999)

Sudan: Lisan elteer (Arabic) (Amaranthus spp.) (Ahmed K, M & Mohammed l.E, 1997).

Tanzania: Mchicha (Swahili); Mochicho (Mbugwe), Bwache (Sambaa) (Amaranthus spp.); Buuza, Bwache, Bwache-katonge (Bondei), Kiyana kya mburu (Chagga), Chamilangíuku, Lichamilangíuku, Lifweni (Hehe), Kapokole, Ntungu (Nyamwezi), Buruja (Pare), Bwache (Sambaa), Bwache (Zigua) (A. spinosus). (Ruffo et al., 2002)

Togo: Boboroa (Gurma) (A. viridis) (Burkill,1985); Gbetongwi, Essogbé, Amatonui (Ewé) (A. spinosus) (Adjanohoun et al., 1986)

Uganda: Nyamujogo (Adhola), Edodo (Ateso), Obuga (Luganda), Doodo (Langi, Lugbara), Doodo (Lugwe), Doodo (Lugwere), Doodo (Lusoga), Onyoko (Madi), Acuka, Lomusgui (Ngakarimojong), Doodo (Runyankore), Doodo (Runyoro), Doodo (Rutoro) (A. dubius);, Doodo samba (Adhola), Goyi, Goi (Alur), Eboga lapolon (Ateso), Gbedegbede (Kakwa), Obuga munu (Langi), Goyi (Lugbara), Liwola (Lugisu), Lomusugui (Ngakarimojong), Omuriri (Rukiga), Omuriri (Ranyankore), Doodo enjungu (Runyoro) (A. hybridus);, Mboog'ennene (Luganda), Nyabutongo (Rukiga), Omuriri, Nyabutongo (Runyankore), Bwora, Doodo (Runyoro) (A. lividus) (Katende et al., 1999)

Zimbabwe: Bonongwe (Shona), Imbuya (Ndebele), Mbowa (Shona), Mowa (Shona), Teka (Hlengwe) Umbhida (Ndebele) (A. thunbergii) (Hyde, et al., 2021); Mowa nguru, Mowa rine minzwa, Mowa risina minzwa (Mashonaland), Imbuya dhongi, Imbuya mbuya, Imbuya ncane (Matembeleland) (Chweya & Eyzaguirre, 1999)
General Information and Agronomic Aspects
Introduction
Amaranths are among Africa's most popular and most nutritious leafy vegetables. Some are also an important source of nutritious grain. Amaranths consist of 60–70 species worldwide, many of which have edible leaves. About a dozen species are important in Africa, as leafy vegetables, grain and ornamentals. Many species are originally from tropical America. Although several species are often considered weeds, the tender shoots and leaves are harvested in both wild and crop fields and are increasingly being cultivated for both home consumption and markets. Amaranth is a promising crop mainly due to its tolerance to heat, pests and diseases and the high nutritional value of both seeds and leaves.
Amaranth is a nutritious plant rich in micronutrients. The leaves are often cooked with coarser vegetables like cowpeas to soften them or bitter vegetables, such as spider plants, African nightshades and bitter lettuce to modulate their flavour. In dry regions, the leaves are dried and ground to powder for us e in sauces during the dry season. Amaranth grains are also considered a good source of essential minerals like calcium, magnesium, iron, and zinc. The grains are mainly obtained from Amaranthus hypochondriacus and some forms of A. cruentus. The seeds may be made into pop-cereal or milled to make flour that is incorporated into various products such as cereal flours. In Ethiopia, the grains are used in brewing alcoholic beverages.
While amaranths are not commonly used as medicine, some of the species have been used to treat various ailments in traditional medicine. Some forms of amaranths can also be used to produce yellow and red dyes for coloring foods and medicines. Some types, like Amaranthus tricolor are also grown as ornamentals because they have big, bright red leaves and flowers.
(Source: Maundu et al., 2009, Grubben and Denton, 2004, Ebert et al., 2011, Trucco and Tranel, 2011, Schippers, 2000; Van Wyk and Gericke, 2000; Rensburg et al., 2004).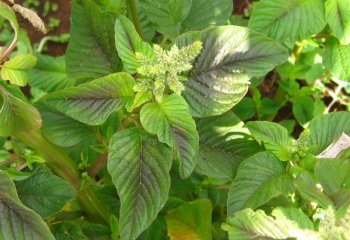 Varieties
The genus Amaranthus, commonly known as the amaranths, is a resilient group of plants distributed widely throughout Africa. Members can be found in various habitats, including cultivated fields, disturbed areas and the wild. With over a dozen species occurring in Africa, some are native to the continent, while the majority have been introduced from other regions, particularly the Americas. Some native species such as A. sphaganiocephalus (Maasai amaranth), found in East Africa, have a limited distribution. On the other hand, some introduced species like A. cruentus are more aggressive and have a wider distribution.
Most members of the genus Amaranthus that are found in Africa have monoecious flowers, meaning that individual flowers can be either male or female, but both sexes are found on the same plant. The flowers are primarily wind-pollinated, contributing to their wide distribution in different habitats. The following are the main amaranth species used in Africa.
1. Amaranthus blitum probably originated is tropical Africa and the Mediterranean region. It is naturalized in other parts of the world, from the tropics to temperate climates. In Africa, it is found in many countries with humid or sub-humid climate, mainly from mid to high altitudes. It occurs in cultivation and less often in the wild. It is cultivated in Central Africa (Cameroon) and East Africa (Kenya (Nyanza, South Rift and Western regions), Uganda and Tanzania).
2. Amaranthus caudatus originated from the central and northern Andes. It had long been grown as a food crop in the Andes, e.g., by the Incas, and the most significant genetic variation occurs in this area (Ecuador, Peru, Bolivia, and Argentina). In Africa, the distribution of A. caudatus is less documented as it has often been confused with other amaranthus species. The brightly colored types are often grown as ornamentals, mainly outside Africa.
3. Amaranthus cruentus is widespread in tropical Africa. It is originally from Central America and Mexico. It is a major leafy vegetable in parts of West Africa (southern Nigeria, Benin, Togo, and Sierra Leone) and in Central and East Africa. Grain types of A. cruentus are common in Central America and northern South America, India and Nepal but also commercially grown warmer, drier areas of the United States, Argentina, and China.
4. Amaranthus deflexus or deflexed amaranth (meaning bent downwards) is uncommon in the region but has been sighted particularly in Southern Africa. It is originally from South America.
5. Amaranthus dubius is widespread throughout most warm, humid, and sub-humid tropical Africa. It originates from tropical America, where it is common in the Caribbean region and from southern Mexico to northern South America. The cultivated type may have been developed from a weedy ancestor in tropical Asia (Indonesia, India). Amaranthus dubius is widely cultivated in West, Central, East, and Southern Africa. It is particularly important on the east coast of Africa, where it grows spontaneously in crop fields and is preserved for use as a vegetable.
6. Amaranthus graecizans occurs naturally throughout tropical Africa in sub-humid and dry areas. It is also distributed in southern Europe, tropical and subtropical Asia and was introduced to the United States. It is mainly collected in the wild as a vegetable in parts of Kenya, Uganda, Tanzania, Malawi, and elsewhere in southern Africa. It is especially popular shortly after the start of the rainy season before seeds develop. It is locally cultivated on a small scale in home gardens, e.g., by the Acholi people in Nebbi, Uganda, and in parts of Tanzania for the market.
7. Amaranthus hybridus sub-species hybridus is common in mid to high altitudes in Africa. It is common in crop fields.
8. Amaranthus hypochondriacus originates from central Mexico. It is now widely cultivated worldwide, including in tropical Africa, where it is mainly grown for its vegetable and grain.
9. Amaranthus retroflexus is only occasional in parts of Africa. The red-rooted Amaranth, as it is commonly called, is native to North America. The inflorescence has a spiny appearance like that of A. hybridus spp. hybridus.
10. Amaranthus sparganiocephalus is found in semi-arid to semi-humid areas of Eastern Africa and the Arabian Peninsula. It is common in mid-altitudes.
11. Amaranthus spinosus probably originated from tropical South and Central America but is now widely distributed in the warmer parts of the world, including tropical Africa, where it mainly occurs as a weed and in disturbed open places. It is not normally cultivated, but in crop fields, a few plants may occasionally be preserved as a source of vegetables.
12. Amaranthus thunbergii is native to Southern Africa but grows as far north as the Congo and the Horn of Africa. It mainly occurs in open places in the wild but also as a weed in cultivated land. It is now found as a weed in Australia and Europe.
13. Amaranthus tricolor originates from tropical Asia, where it is one of the important leaf vegetables. A. tricolor is not a competitive weed and therefore it is a rare exotic vegetable in Africa. It is occasionally cultivated in cities as an ornamental.
14. Amaranthus viridis is possibly of Asian origin but is now a cosmopolitan weed in the tropics and subtropics of the world. In tropical Africa, it is common in cities and roadsides. It is occasional in crop fields.
(Sources: Maundu, P. 1999; Ebert, A, W, 2011; Grubben and Denton, 2004; Achigan et al., 2014; Ebert, A.W., 2011).
Species accounts
Amaranths are often challenging to identify taxonomically due to their close resemblance and the presence of intermediaries. The small seeds are easy dispersed and so species may often occur where they are not expected. Easy morphological features to check include plant growth habit, stem and leaf coloration, mature plant height, the shape of the leaves and the inflorescence. The seeds are usually shiny black or brown but may be cream in edible grain types. The following are some of the more common amaranths.
Amaranthus blitum is a branched, erect, ascending or prostrate herb that grows to nearly 1.2 m in height, but usually smaller, around 30–60 cm, in cultivation. Its stems are usually green to brown, occasionally reddish in color. The leaves are typically green, sometimes with a slight brown tinge. The flowers are borne in axillary and terminal spikes. The seeds are conspicuously larger compared to other species of amaranth, with approximately 100 seeds per gram.
A. blitum is used as a leaf vegetable in many African countries. It is highly regarded for its soft texture. It is often recommended for young children, lactating mothers and people who are anaemic. The plants are eaten by livestock but sparingly.
(Sources: Maundu et al., 1999; Burkill, 1985; Achigan et al., 2014; Grubben & Denton, 2004).
| | |
| --- | --- |
| Figure 1: Amaranthus blitum, young plant. Ⓒ Maundu, 2012. | Figure 2: Amaranthus blitum fruiting branch Ⓒ Maundu, 2019. |
Amaranthus cruentus is an annual herb grown for grain production (pseudocereal), as well as a leafy vegetable and ornamental. The plant can grow to a height of 1-1.5 m high, sometimes even higher. The crop is characterized by its fast growth, ribbed, straight stems, large pointed leaves, and a conspicuous terminal inflorescence with a prickly appearance. The inflorescence may vary in color from green to red or purple and sometimes a mixture of these colours. The seeds are usually dark brown to black, but can also be white to cream or golden in grain amaranths. Ornamental types of A. cruentus have large bright-red inflorescences and are often found in the tropics and subtropics. These inflorescences can be used to produce a red dye. In tropical Africa, A. cruentus is grown as a highly productive, nutritious and economically important leafy vegetable. The young leaves and tender stems are commonly harvested and cooked or fried, and served as a side dish.
(Achigan et al., 2014, Maundu, 1999; Grubben and Denton, 2004; Wolosik et al., 2019. Chaney, 2021; Ebert, A.W., 2011).
| | |
| --- | --- |
| Figure 3; Amaranthus cruentus Ⓒ Maundu, 2012 | Figure 4: Amaranthus cruentus fruiting branch-at Kenrik gardens- Ⓒ Maundu, 2019 |
Amaranthus dubius is an erect herb that grows to a height of 1 m or more. The stems are ridged, highly branched, and usually green or tinged purple. The leaves are simple, usually with an ovate leaf blade to 8 cm long, veins conspicuous underneath. The flowers are borne in clusters, in the axils and in terminal branched heads or spikes. Fruits are covered by bracts and bracteoles which are the more visible structures of the flowering part. Seeds black, shiny.
The leaves and tender shoots are used as vegetable, sometimes cooked with more bitter vegetables such as spiderplant, african nightshade and bitter lettuce. The plant is grown commercially for city markets, especially in East Africa. This species is now widely grown for its leaves and is also a common plant in disturbed areas, cities, and riverine environments
Used for children and lactating mothers, treating fever, hemorrhage, anemia and stomach ache.
(Grubben and Denton, 2004; Schippers, 2000, Maundu, P.M, 1999, Achigan et al., 2014)